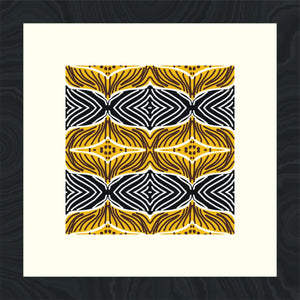 Abstract, Contemporary, Ethnic, Floral -  our Framed Art Prints are a fun yet sophisticated way to add colour and character to various nooks and corners. Perfect for homes and offices, they also make excellent gifts. Pair them up with similar art prints, style them on consoles, put them up on walls, liven up spaces with beautiful pieces of art. 
1" Black Frame with 2" Off-White Mount
8" x 8" Print
Front: Acrylic Sheet Glazing
Light and Easy too carry and hang
Total Size: 14" x 14" (35.5 cms x 35.5 cms)
1 Framed Print 
Can be paired with similar or other framed art print
This is a pictorial representation of the product, the actual colour might vary slightly. 
Delivery in 4-7 working days. Free shipping within India. Price is inclusive of taxes.